News
14.04.2023
Lastest versions of Toyota Denso Gen1 ECUs with MCU NEC 76F0085 are coming in small metal case and does not have NBD/JTAG port onboard. This port is usually used for reading flash file from MCU. So this ECU type cannot be read with common way.
ECU looks like this: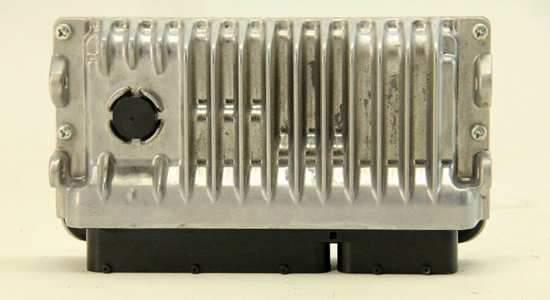 However, this ECUs are perfectly flashing by OBD2 if stock file is available. There is 2 ways to get stock file from ECU. First is to get CUW update file and convert it into BIN. Second, if CUW file is unavailable, is to desolder MCU, read it using standalone programmer and put MCU back to native ECU.
There are many files are already available in different file bases and databanks and its often they are already modified by somebody and its is not a stock. Using this files for car modification causes different problems for tuners and our customers. To solve this issues we offer for BitBox users this:
1. We have loaded to our server 100% proven stock files. This files was extracted from CUW update files or was readed with MCU reballing in our laboratory. Make sure that files we got from other users was not loaded an will never be. List of the files we have are at the bottom of the page. Files available only for users of Toyota Denso Gen1 CAN module.
2. If u have an ECU witn no NBD/JTAG port and there is no file in our base, you can send ECU to us and we will perform reading. This service is free for BitBox users and takes 3-7 days depending on our load. To get an address for sending please ask at support@bitbox.ru.


List of the files on server:
89663-02X40
89663-02X41
89663-06750
89663-06751
89663-06752
89663-06770
89663-06771
89663-06772
89663-06790
89663-06791
89663-06792
89663-06793
89663-06794
89663-06795
89663-06800
89663-06801
89663-06802
89663-06803
89663-06804
89663-06805
89663-06810
89663-06811
89663-06812
89663-06820
89663-06821
89663-06822
89663-06A10
89663-06A11
89663-06A30
89663-06A31
89663-06A32
89663-06A33
89663-06A34
89663-06A35
89663-06A40
89663-06A41
89663-06A42
89663-06A43
89663-06A44
89663-06A45
89663-06E70
89663-06E71
89663-06E72
89663-06E80
89663-06E81
89663-06E82
89663-06F50
89663-06F51
89663-06F70
89663-06F71
89663-06N40
89663-06N41
89663-06N42
89663-06N60
89663-06N61
89663-06P00
89663-07120
89663-07121
89663-07170
89663-07171
89663-07210
89663-07211
89663-07212
89663-07230
89663-07231
89663-07232
89663-0DL50
89663-0DL51
89663-0DN60
89663-0DR20
89663-0DR21
89663-0DR30
89663-0DR31
89663-0DY00
89663-0E140
89663-0E141
89663-0E142
89663-0E150
89663-0E151
89663-0E152
89663-0E200
89663-0E201
89663-0E230
89663-0Z060
89663-0Z061
89663-0Z140
89663-0Z190
89663-0Z191
89663-0Z760
89663-0Z761
89663-0ZR50
89663-12D20
89663-12G40
89663-12G41
89663-12G50
89663-12G60
89663-12G61
89663-12J60
89663-12J90
89663-12J91
89663-28860
89663-28861
89663-30W70
89663-30Y80
89663-30Y81
89663-30Y82
89663-33D70
89663-33D71
89663-33D90
89663-33D91
89663-33E10
89663-33E11
89663-33E12
89663-33E14
89663-33E60
89663-33E61
89663-33F40
89663-33F41
89663-33F71
89663-33G80
89663-33G81
89663-33G90
89663-33G91
89663-33J00
89663-33J20
89663-33J90
89663-33J91
89663-33J92
89663-33K10
89663-33K20
89663-33L20
89663-33L50
89663-33M21
89663-33M22
89663-33M40
89663-33M41
89663-33M42
89663-33Q40
89663-33Q70
89663-42B50
89663-42G30
89663-42G40
89663-42G41
89663-42G42
89663-42G50
89663-42G51
89663-42G52
89663-42G90
89663-42J90
89663-42K20
89663-42K40
89663-42K60
89663-42N50
89663-42N51
89663-42N52
89663-42N60
89663-42N61
89663-42N62
89663-42N90
89663-42N91
89663-42P00
89663-42Q10
89663-42Q11
89663-42Q12
89663-42Q13
89663-42Q20
89663-42Q21
89663-42Q22
89663-42Q40
89663-42S50
89663-42S60
89663-48N91
89663-52N41
89663-52N42
89663-52P00
89663-52P04
89663-52P11
89663-52P12
89663-52Q80
89663-52Q81
89663-52Q82
89663-52Q92
89663-52Q93
89663-52Q94
89663-52R00
89663-52R10
89663-52R20
89663-52U70
89663-52U71
89663-52U72
89663-52U73
89663-52V60
89663-52V61
89663-52V90
89663-52W33
89663-52Z00
89663-52Z40
89663-52Z41
89663-52Z70
89663-52Z71
89663-52Z72
89663-53K90
89663-53N50
89663-58551
89663-5C160
89663-5C161
89663-5C162
89663-5C163
89663-5C200
89663-5C201
89663-5C202
89663-5C210
89663-5C250
89663-5C330
89663-5C331
89663-5C450
89663-5C451
89663-5C461
89663-5C540
89663-68240
89663-68241
89663-68250
89663-68251
89663-68252
89663-78190
89663-78191
89663-78240
89663-78860